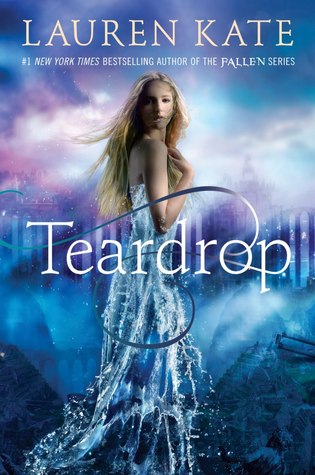 Title: Teardrop
Author: Lauren Kate (@laurenkatebooks)
Series: Teardrop (#1)
Genre: Speculative, fantasy (YA)
Publisher: Doubleday
Pages: 441
DOP: 2013
Stars: 2/5
Ander is faced with two choices: fulfil his destiny and save the world or save the girl he's fallen for from a terrible death. Eureka survives the bizarre accident but has to let go of her mother. Months after losing her, Eureka lives with her father, her stepmother and her twin brother and sister. She's hurting, not wanting to continue life without her mother but when Ander appears everywhere she goes and Eureka's given a few rare objects from her mother's will, her world is not what it used to be.
Lauren Kate has begun another round of series in the speculative genre, a genre she feels most familiar with (read: the fallen series) but the question is, has she improved? The book is mostly written in Eureka's pov and although this may give an author the opportunity to expand the story, the writing style asked for a first person narrator. A lot of Eureka's emotions felt distant and stretched, almost surreal and because of that it never created empathy for the protagonist.
When Ander appears, the tension is increased. There is something mysterious about him. However, the fact that he has the same characterisations of a real stalker is absolutely disappointing and troublesome, especially when the intended audience are teenagers. Why are authors nowadays supporting this kind of behaviour? Why do they pretend this is appealing? Why do teenagers even fall for this? It's a pathetic way of introducing this interesting new character in the protagonist's life.
Unfortunately, that's not the only problem Ander has. Besides his stalker personality, he's showing the beginnings of an abusive personality as well. Schizophrenic? Perhaps. After only knowing Eureka for a few hours, he already dictates her whom she should talk to or not. Enter massive sigh of frustration and rolling eyes. Do teenagers really buy this? Really?
Of course, a love triangle is one of the key ingredients to be "über-cool" in YA novels these days as well. Let's forget the fact it gets boring, and quite truthfully, Lauren Kate sticks to what she knows and has done before – which makes the difference between her fallen series and this one almost non-existent (except for the angels).
If it weren't for the creative way in which she turns a myth into reality, the story would have been bland and it's most certainly the only reason why the book was a tad bit interesting but it didn't erase the sharp edges of disappointment. Perhaps if this story was dealt with properly and more thoroughly, this could have been the next best thing in speculative YA novels but alas, it wasn't. The credibility was far-fetched, the characters felt wrong and the what-could-have-been-amazing book felt slightly unhinged.
Is it good enough to continue reading the series? I'm not sure. There will be people out there who will have fallen in love with this new book by Lauren Kate but I wasn't. Maybe she needed time to adjust to her new series so I might pick up her next book, Waterfall, and give her another chance (and review how it hopefully improved.). Its current releasing date is set in October.