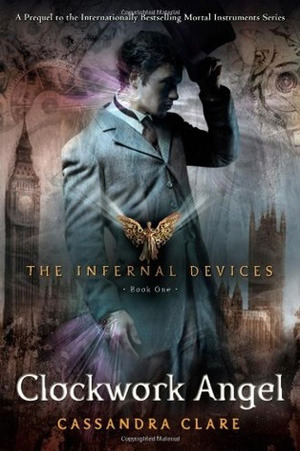 Title: Clockwork Angel
Author: Cassandra Clare
Genre: YA, fantasy
Series: #1 The Infernal Devices
Publisher: Walker Books
DOP: 2011
Pages: 482
Stars: 5/5
ISBN: 978-1-4063-3034-2
Twitter: @cassieclare
After losing her only relative in America, Tessa Gray travels across the Atlantic Ocean to stay with her brother, Nathaniel. The moment she arrives in England, two strangers – The Dark Sisters – are awaiting her arrival. Forced to save her brother's life, she's pushed and pulled into a magical world she didn't know its existence of, quickly learning she's more than just an ordinary girl. In her quest to find and save her brother from the Downworlders, she meets the handsome dark-haired Will Herondale and his best friend, the kind and pale James (Jem) Carstairs: Shadowhunters.
Clockwork Angel by Cassandra Clare takes you on a new Shadowhunter adventure, set in nineteenth century London. As a fan of The Mortal Instruments, I have to admit I was sceptic about this. I was afraid it would be repetitive and I am pleased to say that wasn't the case. Just like The Mortal Instruments, the story immediately pulls you into the world of Shadowhunters, Downworlders and demons but the difference between City of Bones and Clockwork Angel lies in the fact that the world is already known by most fans and doesn't need too much explaining, thus giving Clare the time and space to work out a beautiful, enthralling plot with unexpected twists. For those who haven't read The Mortal Instruments yet, there are brief descriptions as you go along, providing the right amount of information needed to understand the world at the exact right time, so you don't have to worry!
And if returning back to a familiar world wasn't good enough for the fans from The Mortal Instruments, then re-introducing warlock Magnus Bane (or should I say, pre-introducing?) definitely will have made our little hearts beat faster. It sure caused the corners of my mouth to twitch into a smile! Returning names and characters such as the Lightwoods and vampires, de Quincy and Camille, made this book feel complete; as if I'm coming home after a long trip away. Reassuring but fresh.
With the freedom of not having to explain too much, Clare submerges us with detailed descriptions of the city, its culture and mannerisms that suit the time and space of Londoners in 1878 perfectly. A detail I can't ignore and that shows her dedicated research for this book, are the quotes that can be found at the beginning of each chapter: they fit the era nicely!
Although a lot of the elements within this book feel mundane, the Infernal Devices – based upon reading Clockwork Angel – is so much different compared to its companion: The Mortal Instruments. If you haven't picked it up yet, then I suggest you do it now! It's worth your time and the five stars!
Have you read The Mortal Instruments and Clockword Angel? What are your thoughts on the series? Which one do you prefer? Or do you like them equally?