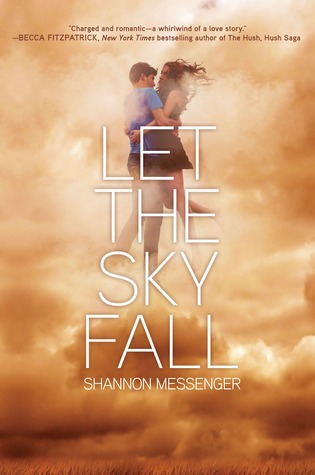 Title: Let the Sky Fall
Author: Shannon Messenger
Genre: YA, fantasy
Series: #1 Sky Fall
Publisher: Simon Pulse
DOP: March, 2013
Pages: 404
Rating: 3.5/5
ISBN: 978-1-4424-5041-7
Twitter: @SW_Messenger
Every night since a tornado killed his family, Vane dreams about a dark-haired girl. He wishes for her to be real, comparing every girl he dates with her. It's not until Audra reveals herself to prepare him for battle that Vane finds out she's real. And hot. And in a dress that's not worthy of the name. But Audra is not ready to play his flirty games because the same enemy that killed his family is on his way in a matter of days and Vane is their final hope. He's the last Westerly and their future king.
Let the Sky Fall by Shannon Messenger introduces us to the world of sylphs (Windwalkers): air elementals who can speak to the wind, walk on the wind and create weapons from the wind. The whole idea fascinated me enough to read it.
The story is written from two alternating point of views, first person singular, and it's done beautifully. Messenger has separated Vane's and Audra's inner voices perfectly, making them both unique and recognisable in their vocabulary and mannerisms; something many authors seem to struggle with. She's done it so well, that I found myself hungry for Vane's point of view chapters. I love him. He's funny, sarcastic and his failed attempts to win over Audra make him a typical male teenager. Despite him being the hero, he lacks heroism. He's uncomfortable with his position as a potential king and he doesn't have the stomach to fight, something that's necessary if he wants to defeat his nemesis. It makes him so likeable and real.
As the first book in the Sky Fall series, it has its flaws too. The world was amazing but overwhelming. Usually, the first book in a series is needed for world building and although it's acceptable and understandable, it almost came to a point when it became dull. A lot of explanations and descriptions are repeated, causing the story to be slowly paced. Because of this repetition, it also caused my mind to wander, making it difficult to focus. This resulted in a story that felt dragged out. Approximately 300 pages were used to describe the world and Vane's training with Audra. Besides this, nothing else really happened and the training felt like a background activity even though it's meant to be very important. The main focus was on their conversations, unbalancing the natural alternating flow of description, action and dialogue.
With that being said, once you're familiarised with the world, the plot is great. The story ended at a crucial moment, keeping you eager to continue the series but it wasn't stopped midway either. It was nicely wrapped up and it created the foundation for the next book: Let the Storm Break. You'll be able to find a link to the review soon.
Although people categorise this book as young adult, to me it feels more at home in a Teens category, based upon the simplicity of the sentences and the fact it was easy to read. If you're into fantasy and want to step away from vampires, werewolves and wizards for a while, then this might be the next series you'd want to pick up.
Do you want to find out more? Read my review on Let the Storm Break, the second book in the Sky Fall series.