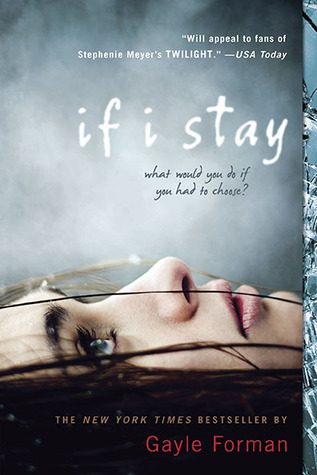 Title: If I Stay
Author: Gayle Forman
Genre: YA, contemporary
Series: #1 If I Stay
Publisher: Speak
DOP: 2010 (originally 2009)
Pages: 234 (story itself) – the rest is extra content
Rating: 3.5/5
ISBN: 978-0-14-241543-6
Twitter: @gayleforman
It's a snowy February morning when the local radio station announces the school closures, bringing Mia's family together in a "wrong place at the wrong time" kind of situation but heartbreakingly, it is an every day's reality. When Mia wakes up, the horror of what has happened slowly reaches through, putting her in a position with only two choices left: will she stay or will she let go?
Tainted with the hype coming from the release of the film adaptation and trailers on the Internet, I had formed a basic idea about this book. I already knew what was going to happen, hard to miss when watching the trailer, and the only thing that was left for me to discover was how this story would unfold itself in the book. Needless to say, I started reading this book with a certain level of expectation.
If I Stay begins with a sense of foreboding, the first sentence immediately warning that something isn't as it should be and yet, the scene is so pure and homey when we meet Mia's family this particular snowy morning. It's the perfect family (maybe a bit too perfect?) and in that sense, it adds to the contrast of what's to happen and increases the element of shock. The moment tragedy hits and the state Mia wakes up from, is so beautifully described that the scene was touchable and easy to imagine as if I was right there along with Mia. From that moment, the story alters between present time and the memories Mia has about her life, her family and her boyfriend Adam while she searches for the right answer to her question: what will happen if I stay?
There were several moments in this book that caused me to tear up, and I have two particular moments in mind: the one with Mia and her grandfather when he's the first to acknowledge that Mia's facing a tough decision and then the moment when Mia sees Willow and realises the meaning behind it. Along with the description of the event that has caused everything, these were my favourite moments of the book that made me appreciate the writing. With not many words, Gayle Forman managed to shock me and bring me to a set of teary eyes.
However, there were a few points that disappointed me. I can't bring them all up out of fear for spoiling you in case you haven't seen the film/trailer yet or haven't read the book either but there's one thing that I can mention and that's Adam. I had expected so much more from him. Not him as in his character, but more like the purpose of his existence in relation to Mia's condition. Does that make any sense? It took him so long to get to Mia that I expected him to be a part of that final decision and he wasn't. Not really.
I liked this story, enough to continue watching the film adaptation last night and I'm confident I'll be reading its sequel to find out more about Mia's story. Maybe I expected too much from this based upon the hype and the trailer, I don't know, but there were parts and scenes that made me hold my breath nevertheless. It was my first Gayle Forman book but definitely not my last.