Hello lovelies!
As I've mentioned in my previous post, I went AWOL during October. I had to kick myself into real reading again. There's only two months left until the end of the year and I'm twenty books behind on my Goodreads Challenge. It doesn't sit well with me and I've set my mind to the task: I will finish this one and only challenge!
The issue though: I keep ordering new books and I want to read them straight after their arrivals. Consequence: I came to the point I was officially reading 17 books (unofficially 22) all at once. Result: I didn't finish any books, as you might guess.
I know, I know…it was ugly. Trust me. Not to mention messy as the books were spread all over the place.
What's that you say? A bookaholic? Me? I don't know what you mean.
That's when I decided that enough was enough.
I put myself on a "book buying" ban last month and forced myself to not start a new book either. If that wasn't enough forcing myself into things I don't normally do, I also decided that I had to finish at least one book each week. I had to kick the reading slump and nasty reading habit back where it belonged: in the pit of book reader's hell!
This means I read some books!! YAY. Without further ado, below a quick overview of the books I actually finished after months of reading them.
Dark Wild Night by Christina Lauren
Dark Wild Night is the third book in the Wild Seasons series and tells the story of Lola and Oliver. Although I love everything Christina and Lauren have written so far, this story didn't excite me as much as the previous two books did. Lola's character traits didn't match her behaviour all the time and I had trouble believing her as a result.
I gave it a 3/5 rating on Goodreads.
2. Across the Universe by Beth Revis
A book that sounded so promising based on the cover and the summary on the back but disappointed me as the story developed. Beth Revis could have done so much more with the characters. They made the same mistakes over and over again, ignoring what's been obvious from the beginning.
I gave it a 2/5 rating on Goodreads.
3. The Scorch Trials by James Dashner
After reading The Maze Runner last year, I already knew what I signed up for: a book that doesn't make much sense and barely progresses while reading. To say I wasn't having a good reading experience this month is an understatement. Thomas was thrown from one adventure into another and it never made any sense. I'm sure that's what the author was aiming for but…I needed some kind of answers in order for me to get more sucked into the story.
I gave it a 3/5 rating on Goodreads because I thought it was slightly better than Across the Universe.
4. Grave Mercy by Robin LaFevers
Well, this was different. I enjoyed it a lot! It's a historical fantasy but with a kicking-ass female character named Ismae. I devoured this book in two days, refusing to meet any of my friends during the weekend as I simply had to finish this book ASAP. I needed this to change the "bleh" books I had been reading during the past weeks.
Obviously, the rating went up for this one as it received a 4/5 rating on Goodreads.
5. All I Know Now by Carrie Hope Fletcher
A non-fiction book on sharing some advice to teenagers from youtuber Carrie Fletcher at ItsWayPastMyBedtime. I liked how she tried to make her readers understand they're not the only one going through this or that by sharing her own mistakes, no matter how embarrassing. Let's be honest though, how many mistakes don't we make and how many of them do we want to forget because you can't believe how stupid you were for doing it? I can at least come up with five! And the number one mistake makes me want to curl up in a hole and never come out again. So, so, so embarrassing!
If you're a teenager, I strongly recommend this. It's helpful in a lot of ways and it will make you feel less lonely and better understood during your journey to adulthood 🙂
I gave it the 5/5 rating it so deserved.
6. Crossroads by Riley Hart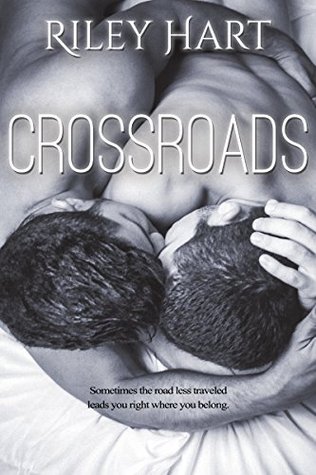 This was a first for me. Well…not really…if I count in a few Sirius/Remus fan fictions but in new bookwise stories, yes it was. This was a M/M erotic read and boy, was I disappointed, and I didn't expect much to begin with. Maybe if you're male and into M/M books this might work out for you though. It didn't have a plot at all as it was a story of two males finding out they like men for the first time (each other) and how they had to explore the difference in intimacy in their relationship. I needed a bit more…story. But hey, I'm a girl, we always need more story. Haha! Generally, it's receiving good ratings on Goodreads so maybe it's just me.
I rated it 1/5.
That's it for October! Although I read six books (I don't know when I actually did this) the stories didn't fulfill me with a sense of completion. I hope your reading was better than mine!
What did you read in October and how are your challenges going?