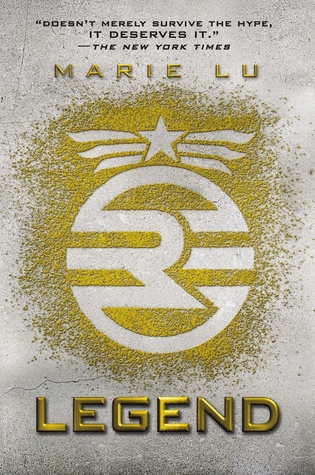 Title: Legend
Author: Marie Lu
Genre: YA, Dystopian
Series: Legend #1
Publisher: Penguin
DOP: 2013 (original 2011)
Pages: 295
Rating: 5/5
ISBN: 978-0-141-33960-3
Twitter: @Marie_Lu
Day is a fugitive the Republic has trouble with catching as he goes against the laws in order to find a way to make it easier for his poor family. June works for the Republic, resolute in finding her brother's murderer and avenge his death. They have nothing in common. Two different backgrounds, two different opinions and yet, when their paths cross there's something that intrigues them about the other, forcing them to be faced with the consequences of their own background and the knowledge they have on the Republic.
Marie Lu's world has been written in such an attention-grabbing way that it was hard to put down the book. With an action packed plot and a very well built world, was Legend the answer to my long lasting reading slump. Told from two perspectives, Day's and June's, the plot evolved to a crescendo that kept me turning page after page, something the books I've been reading lately lacked.
Continue reading Review: Legend by Marie Lu →