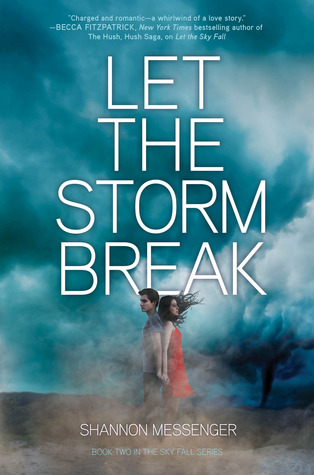 Title: Let the Storm Break
Author: Shannon Messenger
Genre: YA, fantasy
Series: #2 Sky Fall
Publisher: Simon Pulse
DOP: March 2014
Pages: 381
Rating: 4/5
ISBN: 978-1-4424-5044-8
Twitter: @SW_Messenger
#1 – Let the Sky Fall: read the review here.
Treacherous winds are trying to entice Vane in a nightmare that might be impossible to escape once he gives in. It doesn't help his training and when the pull of their bond weakens as Audra's running from a past she'd wish to forget, it isn't helping him focus either. Questions are asked about her disappearance. The Gale force are rapidly losing in number after each new attack and the winds are shifting, a promise of another change. In the meantime, Audra discovers something about Raiden and his newest weapon that threatens to dissolve the power of four winds. Will she get back in time to warn Vane and the Gales?
The whirlwind story of Vane and Audra continues in the second Sky Fall book written by Shannon Messenger: Let the Storm Break. Despite the slow start from its precedent, Let the Sky Fall, this book makes up for it tremendously, immediately familiarising us again with Vane and his sarcasm. After a brief recap of what's expected of him and what his goal is, we're thrown into a new story that not only reads a lot quicker than the previous one, it's a lot more interesting too.
During this book, Vane and Audra are separated for most of the time, giving us a break from the similarities of their point of views. They both experience different things and thankfully, so do we too, receiving a nicely balanced duality. It definitely speeds things up in a good way, switching from boring repetition to exciting new events with each new chapter.
The only problem I have left is with Audra. In all honesty, she's a weak character pretending to be strong, cool and knowledgeable but as soon as she's faced with temptation, she loses all control. Instead of facing her mistakes, she runs away until everyone's too busy to realise what she's done. She leaves Vane behind, the guy who's head over heels in love with her and who knows little, if not nothing, about their world. He has to answer questions, has to lie in order to protect her, while she couldn't care less, her own selfish behaviour coming first now. Her jealousy is ugly and uncalled. She left him. He should ditch her. There's growth, I don't deny this, but I really don't like Audra and I wonder if Vane isn't too blind to see that there might be others besides her. Someone who is kind, genuine and destined to be Vane's future wife perhaps?
More characters are introduced to us, helping us remember that this isn't solemnly about Vane and Audra but about the entire sylph species too; and it's war. A lot of funny Vane-and-his-guard-slash-friend-Gus interactions keep the story upbeat in the otherwise dark and action filled plot.
The tension slowly builds towards a crescendo until it blows up and throws you miles away. Less predictable, although still predictable with some thought, a few twists will jolt you back into your earth elemental body. Leaving us with one frustrating cliffhanger, the anticipation of the next book release is so high that it's dancing on the edge of being either unbearable or just comfortable enough to wait for an entire year (hopefully, since no release date has been mentioned yet).